1 x 3.5 inch Micro Zip Sander Mini Sander for Small Manual Projects, Detail Handle Sanding Tools, 1Pcs
Comfortable To Hold: detail mini sander sanding fits snugly under your index finger, tough polyurethane foam (PU) made, soft, light weight and good feels on hand. This little sander can flexibly get into tight spaces and do larger areas quickly. Your hand won't get tired.

Simple & Easy: It's the perfect size for any project, in small and hard to reach spaces, and it's always within reach on every project. Great for detail sanding, smaller crevices and sanding in tight spots and corners.

Hook and Loop: H&L design for quick place and switch. 100 pcs Refill packs available (sold separately)

Wide Range of Use: For grinding metal, wood, plastic, arts, meet your daily needs.

Material: Aluminum Oxide
Size: 1 x 3.5 inch
Quantity: 1 pc
Please allow a certain range of errors due to manual measurement.
↓ you may also need these good partners ↓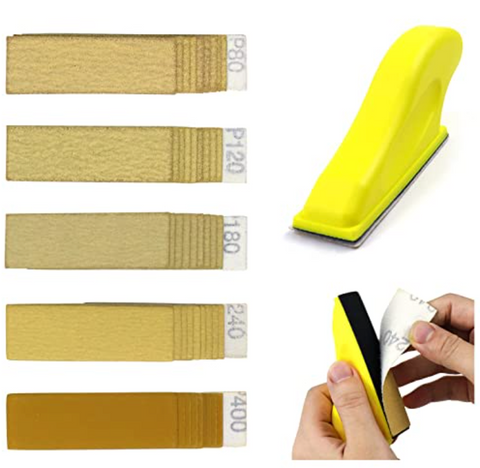 【FREE SHIPPING】: Order $25 or more, free shipping.
【SHIPPING SPEEDS】: We provide two shipping methods, Standard Shipping takes 7-14 days, and Express Shipping takes 3-7 days.
【THIRD-PART CARRIERS】: We cooperate with YunExpress, FedEx, DHL, UPS and TNT, and we reserve the right to use other carriers.