1 x 3.5 inch Micro Zip Detail Sander Paper Hook & Loop Aluminum Oxide Sandpaper (80-1000 Grit), 100 Pcs
9 Grits: Made by high performance aluminum oxide, 80/120/180/240/320/400/600/800/1000 grit sandpaper from coarse to fine, for rough sanding, medium polishing and smoothly finishing.

Hook and Loop: H&L design for quick place and switch. Have grit marked on the backing side of sanding sheets, easy to distinguish the grit.

Simple & Easy: It's the perfect size for any project, in small and hard to reach spaces, and it's always within reach on every project. Great for detail sanding, smaller crevices and sanding in tight spots and corners.

Wide Application: Such as striping/re-staining of the built-in bathroom cabinet, adding a shabby chic look to the dresser or kitchen cabinet, fix little nicks, curved surfaces.

Material: aluminum oxide
Size: 1 x 3.5 inch (30x90mm)
Grit number: 80/120/180/240/320/400/600/800/1000 Grit
Weight: 2g/pc
Quantity: 100pcs/box
Please allow a certain range of errors due to manual measurement.
↓ you may also need these good partners ↓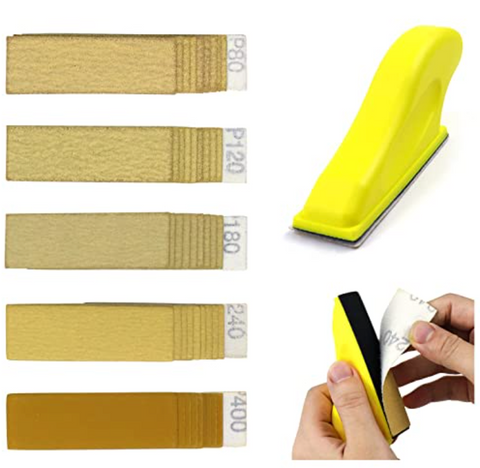 【FREE SHIPPING】: Order $25 or more, free shipping.
【SHIPPING SPEEDS】: We provide two shipping methods, Standard Shipping takes 7-14 days, and Express Shipping takes 3-7 days.
【THIRD-PART CARRIERS】: We cooperate with YunExpress, FedEx, DHL, UPS and TNT, and we reserve the right to use other carriers.